And here we are, we made it through the first week – yay. Zeus is doing amazingly well all things considered. We are adapting and adjusting each day. First two nights were just so horrible that I am working on permanently deleting them from my mind. I know they are long gone from his mind. We have our first, officially scheduled, check up tomorrow. The incision looks great, so I expect praises 😉 he is learning how to efficiently move around and do things he used to do – like pee with his leg up, but he's not quite there yet. He sometimes desperately tries to pull his left leg out of his shoulder socket as if it's stuck in there, just so he can balance better. But then he just figures out a different way to do things and moves on while my heart breaks. I have a long road ahead of me and I have a lot to learn from him yet.
Exhibit A: Big Smile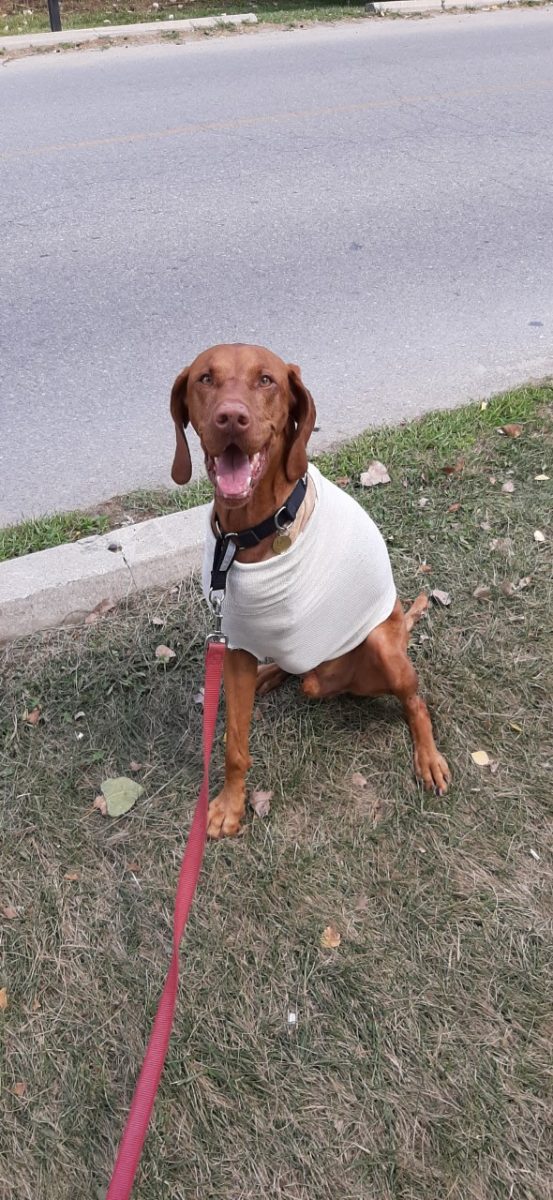 On the day Zeus went into surgery I went for a bike (bicycle) ride and kept riding until I received a call from the surgeon telling me he made it and is doing well. That took 41.7km. Since then, I have gone out for at least a 20km ride each day. It helps me clear my mind and reset. I take the usual, and unusual, routes that Zeus and I used to walk and explore and it is amazing how distant they seem and almost out of reach for him now. I wonder, will he be able to go on long hikes, will he be able to navigate rocky sections, swim, run crazy with his leash in his mouth.
 In my hands, I hold "Be More Dog". A new journey awaits.
UPDATE: Since I had issues logging in for a few days this was supposed to be a week one update. We are now on day 10 post-op. We had our check-up and everything was fine. The surgeon said he looked great. I insisted on a blood test because I noticed Zeus's tongue colour is a bit dull with a purple hue to it. Also, his gums didn't seem that pink. All tests came back "perfect". We also got a call from the Oncologist yesterday – and I am not good with all the medical terminology but it was confirmed to be grade 2 osteosarcoma. Stitches come out on the 15th and we start chemo that same day.